Revisiting Failures: Designing Hospital Interiors for the First Time
This week, we've had a lot of highs and lows.
We've won awards, made new contacts and secured small pots of funding.
We've also been rejected from other awards, lost out on bigger funding and had doubts about our creative practice.
With the recent announcements of the D&AD New Blood Side Hustle awards, it turns out that failure is starting to be noticed - and celebrated. Four students from the University of the Arts London founded 'Fail Better', a platform for creatives to talk about their biggest failures in design.
We thought' we'd have a go at looking at one of our earlier
Designing for Whipps Cross
We were asked to redesign a Mental Health A&E waiting room at Whipp's Cross Hospital in Leytonstone.
The site is usually used for one patient at a time, and they could be in the space for up to 4 hours at a time. There was a sink for water, but not drinks or any additional items were allowed in the room. The interior of the room reflected how bleak it felt to be in there.
We were working alongside Vital Arts on the project, a charity funded by the Barts Health NHS Trust . They aim to deliver better art to hospitals in East London. They acted as the middle link in the chain, working alongside us at the staff at Whipps Cross to ensure that the final design was appropriate for use in A&E.
The brief was to create a calming space which reflected nature and the local area in some way.
Our Designs
One of our biggest set backs was that we didn't want to use vinyl. Although Vinyl is cheap and easy to replace, it is not environmentally friendly, and can be easily peeled off by patients.
We needed to come up with a design which used more sustainable materials which was also quick to install in a working hospital. We decided to focus on designs which would allow us to paint with stencils, using Graphene paint, a material which cleans the air.
The visuals were inspired by surrounding flora and fauna from the Laytonstone and Hollow Ponds area, as well as William Morris, who lived in the area.
We rendered the illustrations with Keyshot and Sketch-up and learnt a LOT fo skills last minute in the process!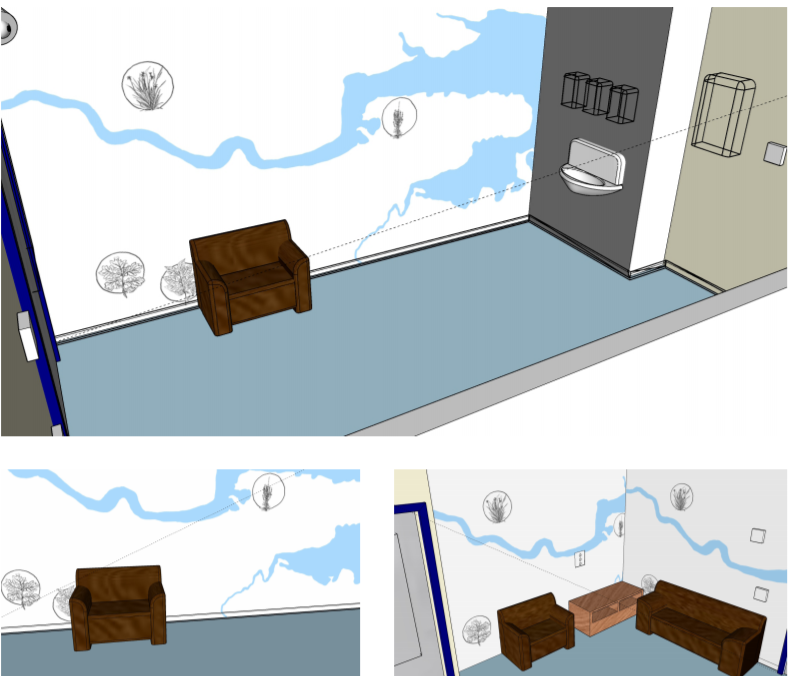 Older Designs
It took us a while to get to this point. Have a look at some of our failed brainstorms …
So why didn't it work?
Vital Arts had a few problems with our deisgns, mainly because they looked too much like wallpaper rather than considdering the elements of the room as a whole.

We also didn't think we pitched the use of sustainable materials well enough, which meant that it was hard to understand the images without our method.

Our inexperience in 3D and interior design meant it was hard to visualise to scale.
What have we learnt?
It's quite funny to look back on these images now. We thouhgt we were really at the top of our game. Oh how we were wrong.
This experience back in January really helped us to finalise our practice and realise what we were good at. We've decided to leave interiors to the experts and focus on experiencial design and workshops.
The hours of work we put into this proect were worth it in the end and we learnt a lot about Whipps Cross, and how hospitals function and commission work in general.
Special thanks to Sarah Graham and Chang Gao for helping us with this project in its early stages.